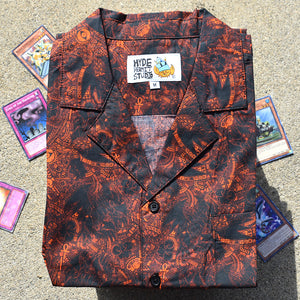 It's tiiiiiimmmmmeeeee toooo DUUUUEEEELLLL!!
It's our brand new clothing line of Red Eyes Toon Monster! Look at the Easter eggs inside the shirt while wearing at a casual settings
Embrace the Perfect Fit: Sizes Ranging from S to 3XL
Our Tiki shirt offers a wide selection of sizes, accommodating everyone for a flawless fit. Don't let this essential piece for your wardrobe slip away! And yes, it even comes with a convenient pocket!
Unleash your inner explorer and make a statement with our Button Up Tiki Shirt. Experience unrivaled comfort, embark on exciting adventures, and seize the opportunity to save with our limited-time offer. Order now and let the journey begin!
SIZING GUIDE